Motorola Products > MOTOTRBO Terminals & Infrastructure > TRBOnet Applications Solutions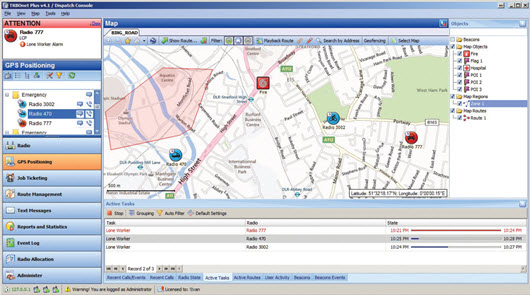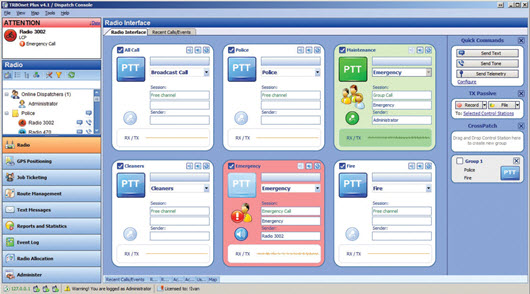 The powerful solution provides VoIP software-base control center for MOTOTRBO radio stations and is built in the layer between transport and network level protocols (UPD andTCP/IP). TRBOnet Enterprise supports all features ofMOTOTRBO radio stations (Capacity Plus, GPS Positioning, Text Messaging, ARS, and Telemetry) and offers you a number of specific options such as Voice Recording, Geo-Fencing, Lone Worker operation, Intercom, Scheduler for Text Messages, Unit Activity Monitor, Email Gateway, etc.
The simplest dispatch system supported by TRBOnet Enterprise consists of one RadioServer which operates as a gate between radio stations and IP network, and an unlimited number of dispatcher consoles. All Dispatchers are provided with a simple and easy-to-use interface which allows them to service dozens of radio stations and radio groups.
To connect to radio networks, TRBOnet Enterprise uses one or more MOTOTRBO radio stations. Dispatchers connect to the RadioServer via local wire or wireless networks or Internet and use IP protocol. TRBOnet Enterprise supports distributed dispatch systems where Dispatchers from around the globe can connect to a central RadioServer. For instance, Dispatchers from Miami and Tokyo can connect to a RadioServer installed in London to check positions of mobile objects they are in charge of, call subscribers and report to fellow Dispatchers.
TRBOnet Enterprise supports radio networks where operate both analog (including MDC) and digital subscribers. At that, calling subscribers' ID (callsing) is always visible to Dispatchers.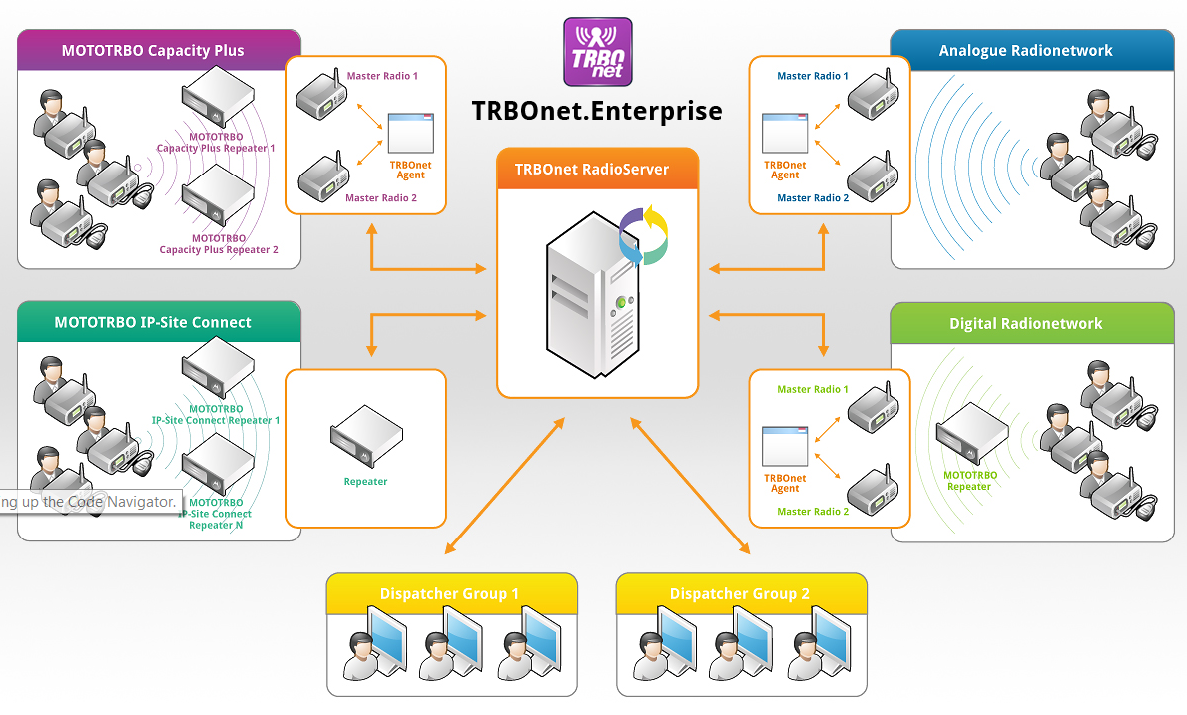 TRBOnet Features
VoIP (Voice over IP)
The VoIP communications technology offers the possibility of transmitting voice via IP networks. Thus, a remote dispatcher having access to the radioserver via IP network can communicate with radio network subscribers and other dispatchers from any place of the world.
TX Passive
The TX Passive function allows for delaying the transmission in case the line is busy. The dispatcher records a message and queues it. TRBOnet RadioServer transmits the message as soon as the line gets free.
Intercom
The Intercom function allows the dispatchers communicate among themselves separately from the main line, thus, lessening the load of the line.
Telephone Interconnect
The telephone Interconnect function allows making calls from radios to telephones and from telephones to radios. A dispatcher can also make calls from the Dispatcher Console.
CrossPatch
The CrossPatch enables dispatchers to patch talk groups, channels, sites and systems together to enable seemless comunication between all radio users of TRBOnet, regardless of frequency or if the radios are operating in Analog, Digital, IP site connect or Capacity plus.
Voice Recording
TRBOnet provides recording of all conversations between dispatchers and subscribers. (The exception is private conversations and text messages between subscribers). The conversations are stored as audio files on the hard disk and are logged in the event log with date and time indication and playback capability.
Emergency
The Emergency call is activated by the emergency button on a Motorola radio. When a subscriber presses the emergency button, the alarm mode is activated and the dispatcher gets the alarm message. All the calls from this subscriber become broadcast and the system starts the monitoring of the subscriber. The system also generates alarm signal after one of the following events:
Lone Worker Policy
Geofencing Policy
Speed Policy
GPS Positioning
The MOTOTRBO integrated GPS allows for indication of subscribers' location and routes on map. Vector and raster maps are supported (i.e. Google Earth, MapPoint, MapLib, etc).
Geofencing and Speed Control Policies
The Geofencing function lets the dispatcher limit the movement of subscribers. The dispatcher can add regions on the map and make rules for entering or leaving a region. For example, when a subscriber leaves a region, the system sends him/her a message and generates an alarm signal for the dispatcher.
Messages (Predefined messages, Scheduled Text messages, Text passive)
Both dispatchers and subscribers can send messages. The Predefined messages function allows for sending template messages. The Scheduled Text messages function implements the possibility to send messages in an exact interval or in time set by the dispatcher. The Text passive function is used in situations when a subscriber is offline. If a message has been sent it will be delivered when the subscriber is online.
Telemetry
TRBOnet uses the data from telemetry sensors and buttons. For example, when a telemetry button on subscriber's radio is pressed the dispatcher gets the message about the telemetry. The dispatcher can set the parameters for telemetry.
Lone Worker
The Lone Worker policy lets the dispatcher set a time interval in which the communication with a subscriber is expected. For example, if a lone worker hasn't called the dispatcher for 15 minutes, he / she gets a message and the dispatcher gets an alarm signal.
User Activity
The User Activity function lets the dispatcher make lists subscribers can be assigned to due to their activity. For example, if a subscriber sends a message 'On duty' or presses an exact preset telemetry button this subscriber gets assigned to the 'On duty' list in the Remote Dispatcher Console. The dispatcher can also assign subscribers to lists manually.
Stun Kill Passive
If the dispatcher gives a command to kill a radio which is offline TRBOnet can delay killing this radio. As soon as the radio is online the server kills it.
Radio Allocation
An exact radio can be now assigned in the system to an exact employee registered in the system. This can be really useful for situations with shift workers. All the radios are disabled and an employee will need to enter username and password to take a radio or return it. When the radio is taken it gets enabled and assigned to this worker in the system. When the radio is returned it's no more assigned to the employee and it gets disabled again.
TRBOnet™ PLUS (PREMIUM CONTROL ROOM SOLUTION)
TRBOnet PLUS provides integrated fully-featured dispatch control over single and multi-site or multi-channel systems. It supports voice communication and data operations for conventional single site repeater, IP Site Connect, Capacity Plus, Linked Capacity Plus and Connect Plus systems by direct wireline interface with the MOTOTRBO network.

TRBOnet PLUS offers the most advanced features for radio fleet management, dispatch and voice and data communications. It leverages the enhanced MOTOTRBO wireline network interface which allows dispatchers to interface directly with the system over IP. This improves the system stability, security and reliability but also reduces hardware overheads and can lower maintenance costs. MOTOTRBO Control Room Solutions have undergone stringentquality testing in Motorola Solutions' labs ensuring they meet the highest standards of quality, solve business critical problems and deliver exceptional customer experiences.

POWERFUL FUNCTIONALITY
TRBOnet PLUS keeps operators in complete control of even the most demanding multi-site systems. Designed with the dispatcher in mind, a wide variety of everyday operations can be automated using defined rules and smart tools such as scheduled text messages, voicemails for offline radios or geofencing. Dispatchers can now monitor the status of users and their location with live updates, while assigning tasks to the most relevant resources, and improving personnel safety with automatic alarms when unplanned events occur.

SIMPLE AND ROBUST
A key benefit of TRBOnet PLUS is the wireline network interface which establishes a direct link between the control room and the radio system. Connectivity is simplified for a more cost-effective and reliable solution architecture. And dispatchers benefit from an enhanced experience with full transparency, recording of all group and individual calls and more communications security from the radio to the application.

MODULAR AND FLEXIBLE
TRBOnet PLUS is modular so you only have to buy the features you need. It can be tailored to individual
requirements to ensure optimum performance across a range of industries. It is also easily scalable from small to large systems that are ready to grow with your business as it expands.

TRIED AND TESTED
Developed specifically for MOTOTRBO professional digital two-way radio systems, TRBOnet PLUS has been tested in Motorola's engineering labs to ensure the highest quality performance and seamless integration into the MOTOTRBO system.


Key Benefits:

Full group and individual call recording
Data logging
Unlimited number of Talk Groups
IP System Bridging
Easy to integrate into existing on-site IT network
Less hardware and maintenance cost
Better reliability due to reduce points of failure
Better redundancy capabilities
Core Features:

Voice Dispatch
Fleet Administration
Text Messaging
Telemetry *
Quick Commands for Telemetry, Text and Voice Messages
Alarm and Lone Worker
Event Logging
Alarm and Lone Worker
Reporting
Job Ticketing *
Optional Modules:

Voice Recording
Phone Interconnect *
GPS Positioning and Geofencing
IP System Bridging
RF Coverage Monitoring
Backup RadioServer
AES 256 Encryption
* Note: Phone Interconnect, Job Ticketing and Telemetry are not supported with Connect Plus systems.
TRBOnet™ Enterprise with Mobile Client
TRBOnet Enterprise is a professional grade application especially developed for Dispatch centers that monitor large amounts of traffic. It supports digital as well as analog channels that could be helpful for clients during there migration period. Also makes response during emergency situations quick and effective, and can be used to link multiple agencies or departments at the touch of a button by the dispatcher. TRBOnet Enterprise is the best for MOTOTRBO Capacity Plus, Linked Capacity Plus, IP SITE CONNECT and CONNECT PLUS. 


Supported Systems:
Single MOTOTRBO repeaters in digital, mixed or analogue mode
IP Site Connect system
Capacity Plus
Linked Capacity Plus
Connect Plus
Benefits:
Voice Recording
Data Logging
Binary Patch is available for IPSC
Talk Group Patch is available for CapacityPlus and LCP
Easy to install and configure
IPSC. TRBOnet can be connected to several single repeaters or IPSC systems simultaneously. A dispatcher operates with all repeaters/sites as with one radio system. CrossPatch feature allows to tie together repeaters and interconnecting radio units from different sites. Roaming allows units moving from one site to another and keep being in contact with a dispatcher. 
LCP & CapacityPlus. No limitation for the number of talk groups! 
Feature List
Multi control station supported
Capacity Plus and IP Site Connected supported
Voice IP
Voice Recording
Telephone Interconnect
Passive Transmit
CrossPatch
Stun Kill
GeoFencing
Speed Control
Google Street View
Street Names Resolving
Export Data to external table
Scheduler for Text Messages
Encrypted Data between RadioServer and Dispatchers
User Activity Monitor
Digital and analog radios supported
Access to a radio channel through a personal computer (Remote Dispatcher)
All call types supported (Broadcast, Groups, Personal, Remote Monitoring)
TX Interrupt
GPS positioning of radio users
Email Gateway (SMPT and POP3) for Text Messages
Google Earth Integration
Lone Worker
Revert GPS
Extended GPS info: speed, direction, accuracy
Flexible workflow system based on the built-in telemetry MOTOTRBO
Simple interface for receiving and sending of text messages
Track system of radio's state (online/offline) based on ARS
Event log: ARS (Presence Notifier), radio, SMS, telemetry, GPS events
Reporting
Configurable Sound Schema (for Alarm and other events)
Dispatcher's status (online, offline)
SMS Alert Notification - integration with cell phones
Radio Allocation Control
TRBOnet™ Watch for Technicians v1.2




TRBOnet Watch for Tech is a lite single PC version of TRBOnet Watch Enterprise, that monitors all traffic on Motorola MOTOTRBO™ IP SITE CONNECT and Capacity Plus systems (or a single repeater in IPSC mode). It displays transmitted GPS, ARS, Voice, Text Messages, System and User data with RSSI, source and destination radio ID's, Peer ID's. 

Not for repeater firmware 2.3 or 2.3A (comming soon)





Available Modules

Live Monitor
Topology
RDAC

Features

Monitor ALL traffic on Motorola MOTOTRBO IPSC and CapacityPlus
Display IP and UDP ports used
Display source and destination radio ID's
Display RSSI
Monitor All Voice Calls including Private Calls
Monitor ALL traffic on Motorola MOTOTRBO IPSC and CapacityPlus
Monitor ALL data including Private Text Messages
Enhanced GPS supported
Enable/Disable repeaters, change channels, etc

Requirements

Windows XP/7/Server 32 or 64 bits
.Net Framework 4.0 or higher
Does NOT require database
No RF, requires only network / internet access

Licensing

License Type: Computer HardwareID based
Number of Systems: two (IPSC or CapacityPlus)



TRBOnet™ Text Messenger
The simple text messenger for MOTOTRBO™. Easy to Install. Easy to Configure. Easy to Use.
Send and receive Text Messages via a Control Radio.
TRBOnet™ for MDC-1200
The product extends the opportunities of customers, which use radios with MDC (Motorola Digital Calling) and gives the opportunity to identify an analog radio during of the transmitting or emergency call. The client-server architecture of the product allows having more than one dispatcher working with the base radio. As a base radio can be used any radios of the MOTOTRBO series.
Feature List
Voice Recording
Radio over IP
Caller ID
Call Alert
Emergency Call
Please note: 
1. MOTOTRBO radio is required as a master radio. 
2. The software supports one master radio (one channel) only
TRBOnet™ Watch for Technicians v1.2
TRBOnet Watch for Tech is a lite single PC version of TRBOnet Watch Enterprise, that monitors all traffic on Motorola MOTOTRBO™ IP SITE CONNECT and Capacity Plus systems (or a single repeater in IPSC mode). It displays transmitted GPS, ARS, Voice, Text Messages, System and User data with RSSI, source and destination radio ID's, Peer ID's. 
Not for repeater firmware 2.3 or 2.3A (comming soon)
Available Modules
Live Monitor
Topology
RDAC
Features
Monitor ALL traffic on Motorola MOTOTRBO IPSC and CapacityPlus
Display IP and UDP ports used
Display source and destination radio ID's
Display RSSI
Monitor All Voice Calls including Private Calls
Monitor ALL traffic on Motorola MOTOTRBO IPSC and CapacityPlus
Monitor ALL data including Private Text Messages
Enhanced GPS supported
Enable/Disable repeaters, change channels, etc
Requirements
Windows XP/7/Server 32 or 64 bits
.Net Framework 4.0 or higher
Does NOT require database
No RF, requires only network / internet access
Licensing
7-day fully functional free trial license is embedded
License Type: Computer HardwareID based
Number of Systems: two (IPSC or CapacityPlus)
Related Material


Related Products