Motorola Products > Project P25 Terminals & Infrastructure > PSC 9600 Site Controller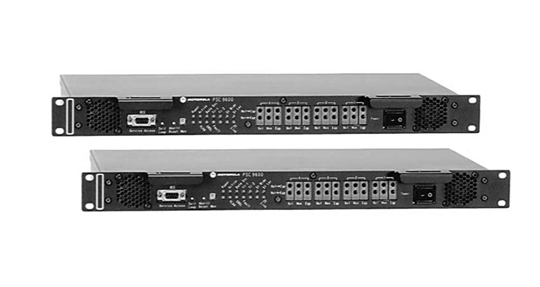 PSC 9600 Site Controller This controller provides site-level system control and resource management for non-simulcast sub-systems.
The PSC 9600 controller provides site-level system organization and resource management for ASTRO® 25 non-simulcast, digital trunking repeater sites. This fully redundant controller maintains the link and communication with the Zone Controller. Two PSC 9600s are needed for all repeater site configurations.
Features and Benefits
---
Site-wide call processing
Supports 16,000 individuals and 4096 talkgroups.
System Control
Manages site states and call control functionality in wide-area trunking.
Network adaptability
Supports 700MHz, 800 MHz, VHF, UHF, and 380 MHz.
Reliable, continuous operation
In a redundant configuration, if the active PSC9600 fails, the redundant PSC9600 will pick up all current functionality and site information to maintain continuous operation.
Versatile racking options
Rack anywhere onsite space permits.
Lightweight, compact design
Weighs only 8 lb and requires only one rack unit of space to mount.
Related Material
---