Motorola Products > Project P25 Terminals & Infrastructure > GCM 8000 Comparator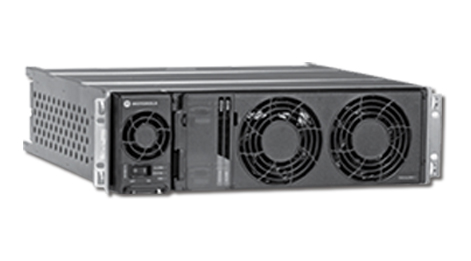 GCM 8000 Comparator Provides a voice signal by combining the best signal received by multiple sites in a Multisite (simulcast) ASTRO 25 Network.
the highest quality audio performance in multi-site Project 25 (P25) voice and data systems with the GCM 8000 Comparator. The GCM 8000 Comparator continuously evaluates and selects the best digital audio packets to eliminate errors and ensure mission critical communications are clearly heard. The software upgradeable GCM 8000 Comparators can be easily configured to increase capacity without requiring new hardware.
Features and Benefits
---
Performance
• Continuous Voting Votes the audio every 20ms to continuously capture the best signal
• Signaling Recovery Sophisticated voting algorithm rebuilds corrupted radio and emergency IDs
• Smart Voting Analyzes radio IDs and network performance to preserve integrity of audio conversations
• Scalable Supports 64 sub-sites in conventional systems and 32 sub-sites in trunking systems
• Simulcast 100 ppb frequency stability directly enhances analog audio performance
Installation & serviceability
• Hot Swap Hardware Service and replace hardware without system down-time
• Online Software Download Download software while online and fully operational
• Front Serviceable Perform all servicing from the front of the comparator
Life expectancy
• Future Ready No new hardware required to convert from conventional to trunking
• Software Defined Radio Upgrade to new functionality through software updates and configuration
Availability
• Redundant Hardware Optional backup comparators available for trunking
• Dual Power Supplies Two comparators can share power supplies for redundancy
• Battery Revert and Charging Eliminates need for an uninterruptible power supply (UPS) in many installations
Space efficiency
• Compact Hardware Two comparators use only 3 rack units of space
Security
• Password Protected Password-only, user/password, and RADIUS server authentication configurations
• Secure Connectivity Secure SNMPv3 and secure shell (SSH) IP connectivity provided with Microsoft Windows® configuration service software
• Robust, Enhanced IP Stack Built to comply with Department of Defence STIGs for secure network communications
Related Material
---