Motorola Products > MOTOTRBO Terminals & Infrastructure > MOTOTRBO™ Anywhere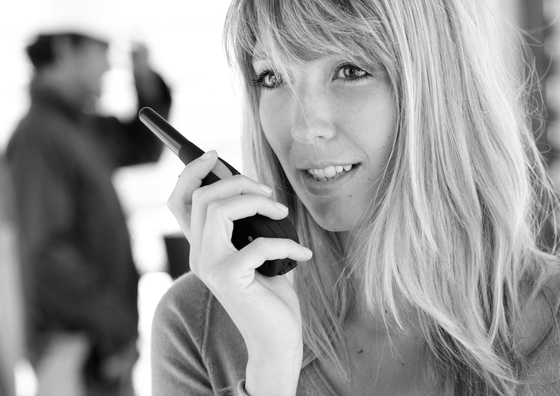 MOTOTRBO™ redefines digital communications with this mobile app solution that helps workers connect without limits. MOTOTRBO Anywhere allows you to communicate with MOTOTRBO users and talkgroups with an easy-to-use Android or iOS application on your smartphone or mobile device. Now you can communicate with an extended workforce without compromising the reliable, high-quality MOTOTRBO network you know and trust.

MOTOTRBO Anywhere utilizes the digital wireline interface on the MOTOTRBO Connect Plus Gateway to deliver radio-like features over an IP network. Large numbers of talkgroups can be accommodated, and every external user can be configured with a unique profile as necessary.

The smartphone application is available for iOS devices through iTunes and for Android devices through the Google Play Store.  User licenses are required.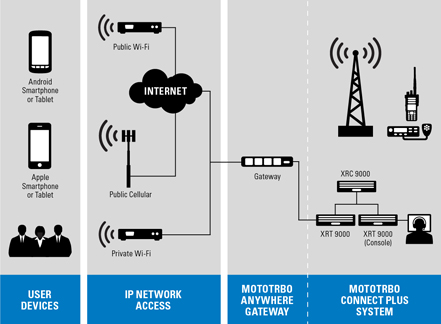 Scalable Capacity
Each MOTOTRBO Anywhere Server supports up to 500 users, and makes efficient use of system talkpaths to give you the capacity to meet your needs.
Unique Profile for Every User
When you log in to the MOTOTRBO Anywhere App with your username and password, your unique user profile of contacts and talk-groups will be waiting for you. You can be productive straight away.
Private Calls, Group Calls, Multi-Group Calls
Make discreet private calls to individual MOTOTRBO users directly from your smartphone. Or connect with a whole team, group or department. MOTOTRBO Anywhere allows you to communicate with talkgroups of thousands of people at once. You can even listen to up to 16 talkgroups simultaneously.
Visual Activity Indication
Even if you can't listen to every team, the screen of your smartphone will show you exactly when a talkgroup is active and which user is speaking.
Call History
MOTOTRBO Anywhere keeps a record of all the calls you've made. Call logs are maintained for 7 days on the Server and on the Client from the last logon. If you have an incident that requires further analysis, you can export the log from the Server as a file (csv format).
Secure Communications
You can be secure in the confidentiality of your communications—on MOTOTRBO Anywhere, control and voice traffic are both secured using AES 256 bit encryption.
Prioritization
The MOTOTRBO Anywhere App makes sure that the most important communications always get to you. Private calls take priority over group calls, and incoming cellular voice calls take priority over private and group calls. Once that cellular call is over, normal MOTOTRBO Anywhere functionality is seamlessly restored.
Visual Indication of Network Connection
Need to keep track of your cellular data usage? The MOTOTRBO Anywhere App clearly shows you whether you're connecting via Wi-Fi, 3G or 4G.
Secure Centralized Provisioning
The MOTOTRBO Anywhere Server gives you robust and secure management of your client accounts. The Provisioning Portal has password protection, and is accessible remotely using an SSL-based secure mechanism for login – logout.
Flexible Client Management
From the web-based Provisioning Portal, you can manage all aspects of your user accounts:

• Add/delete a user
• Activate/deactivate a user
• Change username/password for each user
• Associate talk-groups to users
• Create talk-groups
• Delete talk-groups
• Provision private call contacts for each user
• Manage client licenses

Simple upgrades
The Server also provides a convenient central point for adding new features and functionality in the future. The upgrade procedure is quick and simple.
Built-in Diagnostic Capabilities
The MOTOTRBO Anywhere Server ships with a suite of built-in debug and diagnostic tools.
---
Related Material